Macaroni Kid Toledo 2018 Feature Pick


Q-Zar Laser Tag
5836 Monroe Street, Sylvania, 419-885-3460
https://www.qzartoledo.com/home/laser-tag-birthday-parties/

Bring the birthday kid and their friends for laser tag, pizza, and arcade games. Q-Zar Laser tag offers 2 options for party packages, ranging from $189-250, and both include 2 games of laser tag for up to 10 players.  They recommend booking your party 2-3 weeks in advance, and require a $50 deposit to secure your date.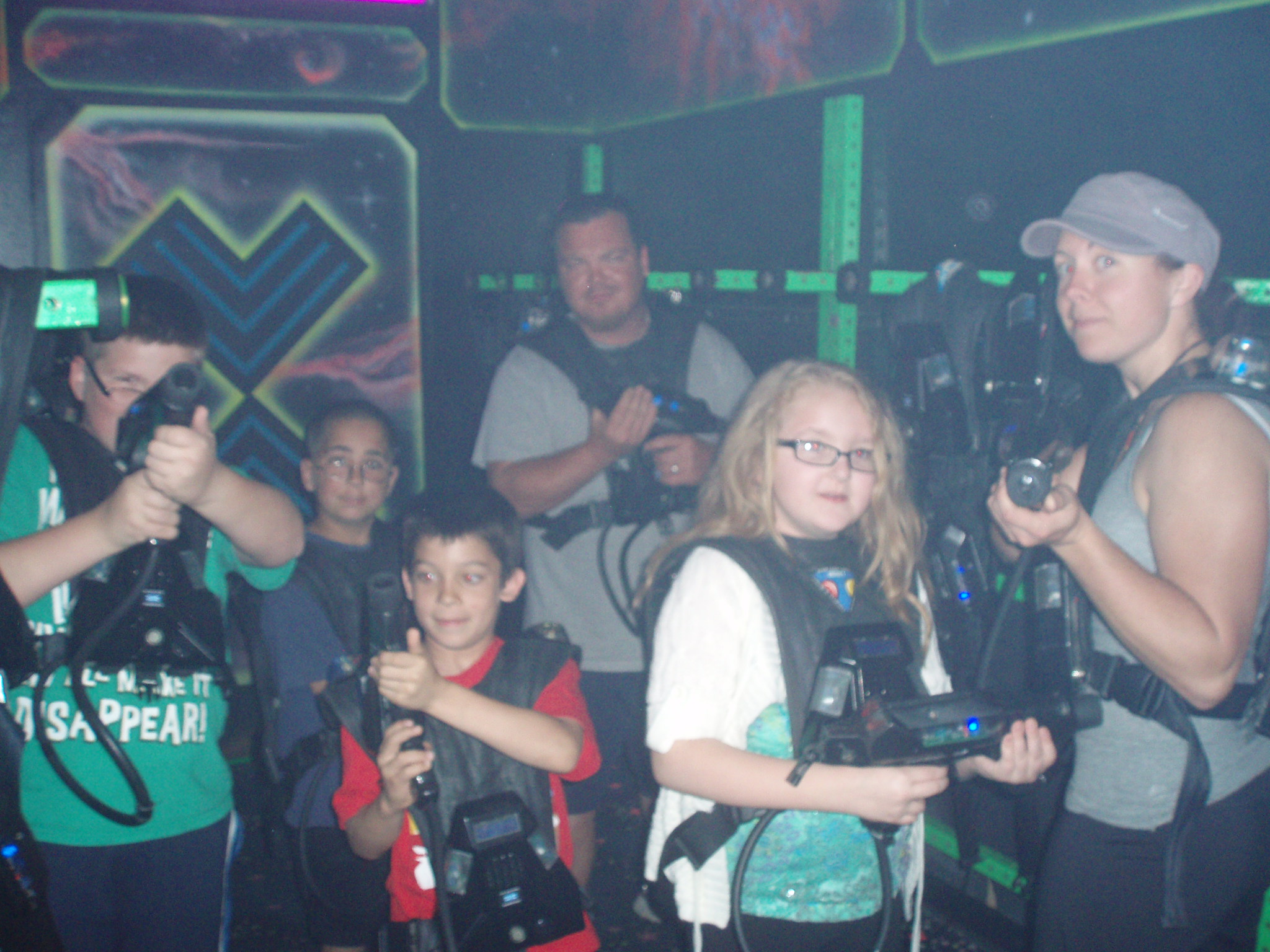 Animals

Duke Petting Farm--http://www.dukefarmonline.com/birthday.html
44 Samaria Rd, Temperance, Jamie Paxton, Event Manager 419-779-0342, info@dukefarmonline.com 
Pony rides, a petting farm , face painting, animal, balloons, bubble machine and music. 
Duke Petting Farm offers 3 different packages to choose from, ranging from $175, up to $450, up to 20 children. 
Availability for days and times varies, and parties usually last about an hour. ​
​Frogtown Exotics--https://www.facebook.com/ToledoFrogtown/
frogtownexotics@gmail.com, 419-350-7453
Reptiles and amphibians at your choice of location. They bring the animals to you, with anywhere from 5-15 different species of reptiles and amphibians. 
$225-$325 
The smaller package runs around 30-45 minutes, and standard package lasts 60-90 minutes.​
RIver Hollow Farms--
http://www.riverhollowfarms.com/
Rosenblooms--http://rosenbloomsfarm.weebly.com/schedule-your-visit.html
Art

Art Matters--http://www.artmattersltd.com/
Board and Brush-https://boardandbrush.com/private-events/
Clayful Art--http://www.clayfulart.com/book-a-party.html
Create Perrysburg--https://createperrysburg.com/private-event-request
Michael's-http://www.michaels.com/birthday-parties.html
Paint Your Place By Jessica Mack--http://www.paintyourplacebyjm.com/price-list.html
10 S Holland Sylvania Rd, Toledo, paintyourplacebyjm@hotmail.com
Each child will get to bring home an art project, and you can bring in your own food, cake, open gifts in the studio. 
Basic package is $140 for up to 12 kids. You can add additional children to that number for $12. 
Parties last about 2 hours and are available all week
Peace Love And Pottery--http://peaceloveandpotterystudio.com/parties/
Simply Stated and Painted--https://simplystatedandpainted.com/
Bowling 
Bowlero Lanes--http://www.bowlerolanestoledo.com/prices.php
Miracle Lanes--http://miraclelanesoftoledo.com/Parties
Southwyck--http://www.southwycklanes.com/
TImbers Bowling--http://www.timbersbowling.com/Parties
Experiences

French Quarters of Perrysburg--http://www.hifq.com/catered_events.html
Imagination Station--https://www.imaginationstationtoledo.org/birthday-party
Rachel Michael's Gourmet Popcorn-https://www.rachelmichaelspopcorn.com/pages/host-a-popparty
Laurel's Princess Parties-http://www.laurelsprincessparties.com/pricing.html
Lotts of Fun Sleepovers--http://lottsoffunsleepover.com/   
Super Suppers--https://www.supersuppers.com/how-it-works-
7015 Lighthouse Way, Ste 100, Perrysburg, 419-872-6325, perrysburg@supersuppers.com

Materials and instructions for activities such as making mini pizzas, braided breads, decorating cupcakes, making lemonade, making pretzels, and coloring in chef hats. 
$18-20 per child, depending on the activity package
Minimum of 8-10 children. ​
Toledo Mudhens(when in season)-http://www.milb.com/content/page.jsp?sid=t512&ymd=20100318&content_id=8829142&vkey=tickets
Toledo Walleye (when in season)-http://www.toledowalleye.com/group-fun/book-your-celebration/birthday-parties/
Toledo Zoo--https://www.toledozoo.org/birthdays
Trapped Toledo--http://www.trappedtoledo.com ***Only for ages 15 and over
Indoor Playgrounds, Arcades, Laser Tag, Gyms​
Chuck E Cheese--https://www.chuckecheese.com/kids-birthday-parties 
Dave & Busters-https://www.daveandbusters.com/party-and-event-venues/kids-birthday-parties
Exceleration Gymnastics--https://www.excelerationgymnastics.com/birthday-parties
Funagins--http://www.funagins.com/party-group-events/ 
Fun Factory--https://www.facebook.com/funfactoryLLC/  
Hero's The Party Experience--http://herostoledo.com/childrens-parties/
​9851 Meridian Ct Rossford OH 43460, 419-873-9400, 419-351-2102 (text), info@herostoledo.com
Inflatables, lasertag, organized games, carnival games, painting options

$275 for 10 children, adults are always free

2 hour parties scheduled to meet your needs 
Playzone Toledo--https://www.playzonetoledo.com/copy-of-groups
130 New Towne Sq Dr, Toledo, 419-540-0000
70 arcade games, laser tag, spin zone, and virtual reality, 
4 different birthday packages, each includes 15 kids
Range in time from an hour and a half to 3 hours. 
SkyZone--https://www.skyzone.com/toledo/parties-and-events/parties
Sunrise Gymnastics--http://www.sunrisegymnastics.com/birthday.php 
Sylvania Playland--http://www.sylvaniaplayland.com/parties.html
WIldwood Athletic Club, Kids Club--https://www.promedica.org/wildwood-athletic-club/Pages/programs-and-services/kids-club.aspx
Movies

Cinemark--https://www.cinemark.com/birthday-parties
Maumee Indoor Theater--http://www.greateasterntheatres.com/rental/8772/Maumee-Indoor-Theatre

​601 Conant St Maumee, OH 43537, 419-897-8902
Movie screening
$225, no limit to number of guests
Offers parties seven days a week from 9am-1pm
Sundance Kid Drive In--http://www.greateasterntheatres.com/rental/2659/Sundance-Kid-Drive_In
Skating​
Ohio Skate-Toledo--http://toledo.ohioskate.com/birthday-parties
Spaces For Rent

City of Toledo--http://toledo.oh.gov/services/public-service/parks-recreation-forestry/recreation/rentals-reservations/
McDonalds--https://www.mcdonaldsparties.co.nz/birthdayparty_nz/AboutBirthdayParties.jsp
Toledo Metroparks--https://metroparkstoledo.com/discover/features-and-rentals/
YMCA--https://www.ymcatoledo.org/
5836 Monroe Street, Sylvania, 419-885-3578