I'm sure there's a few things we all have in common as parents-we're always busy, and we want to give our family healthy food.  I am always on a mission to balance healthy and simplicity when it comes to dinner planning.  I am vegan, my husband is an omnivore, and the Mini Mac-well it all depends on his mood that day.  So the challenge every day is to find something we will all eat.  But on a Wednesday evening, after my husband and I have worked all day and the Mini Mac has gone to school followed by swim lessons-options are usually limited.
I recently discovered The Leaf And Seed, a local meal service run by Susan Herhold.  I was so excited to read the online menu-something for every one.
Everything on her menu is homemade and plant based.  Trust me, it's so much more than just vegetables!  For my first order, I got the pancakes and the lasagna.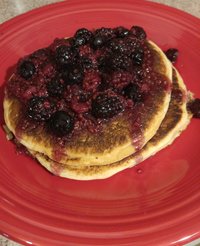 The pancakes, served with a mixed berry compote, was the perfect Sunday morning treat.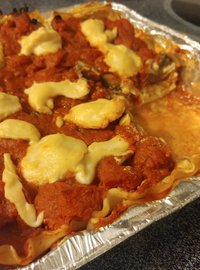 The lasagna, with it's tofu ricotta and mushrooms, was the easiest way to fill up every one's belly on a crazy weekday evening.  It came with a beautiful salad with homemade dressing and garlic bread.
My next order will definitely include the cinnamon rolls and buffalo chickpea dip! ​
​To order, check out The Leaf and Seed website for instructions.  The menu changes monthly, so check back often!